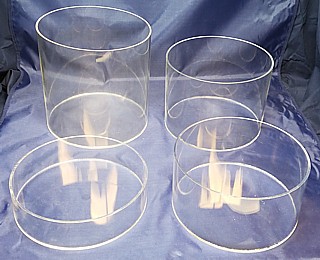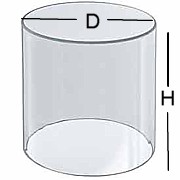 Clear Acrylic Cylinder Ring Riser Set
Model: CRSET5 (set of 4)
Exterior Sizes:
8" Diameter x 2" Height
8" Diameter x 4" Height
8" Diameter x 6" Height
8" Diameter x 8" Height
Hollow With One End Closed and One End Open
0.118" Clear Extruded Acrylic (1/8" or 3mm)
with Smooth, Polished Edges
Please Note That With Extruded Acrylic There May Be Some Minor Waviness to the Acrylic From Being Formed Into Tube.
Great for Holding, Covering or Displaying Small Products, Collectibles, Knick Knacks, etc.
Made in USA
Quantity
Price Each
1-23
$150.00
24-99
$130.00
100+
$120.00
The CRSET5 is a Clear Acrylic Round Cylinder Ring Riser SET of 4. Our Acrylic Ring Risers Can Be Used as a Pedestal to Hold Products, a Cover to Keep Dust Off Collectibles, or as a Bin to Hold Items. Hand Manufactured from Sturdy Crystal Clear Acrylic, These Round Plexi Risers Are Durable and Are Built to Last. 4 Different Sizes Allows for a Creative Display to be Built.