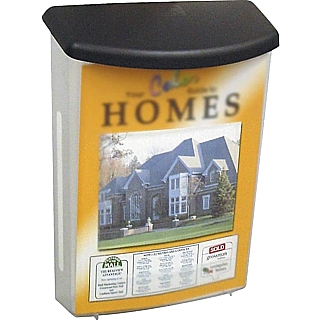 Outdoor Brochure Holder
OBH4
Overall Size: 9"W x 12"H x 1"D
Fits Materials Up To: 8 1/2"W x 11"H (Full Sheet)
Clear Molded Plastic Box with Black Hinged Top.
This Model Can Mount to the Wall By Using the 2 Holes and Screws (Included)
Weather Resistant with Lid to Keep Out Rain
Also Great for INDOOR Use in Warehouses, Stores, Office Lobby, etc.
Quantity
Price Each
1-5
$27.23
12-59
$17.07
60-101
$15.36
102-251
$11.96
252+
$10.46
Our Molded Plastic Weather Resistant Outdoor Literature Holders Come Are Made From Rigid Plastic with a Clear Front. Calling This Holder Waterproof or Weatherproof Would NOT Be Completely Accurate, But it IS Water Resistant and Weather Resistant and Should Keep Your Literature Safe and Dry in Most Types of Weather. We Have You AND Your Brochures Covered!